Stepper Motor Simulink Projects enrich your career with unique thoughts. The Stepper Motor is the Brushless DC Electric Motor. In detail, it divides a full rotation into equal-sized steps. The motor then moves and holds one of these positions. Most importantly, it doesn't use any position sensor or feedback loop since the motor builds upon the optimum size with respect to torque and speed.
Where We Use Stepper Motors?
Linear Actuators and also Stages
Rotary Stages
Goniometers and also Mirror Mount
Floppy Disk Drives
Flatbed Scanners and also Plotters
Computer 3D Printers
Image Scanners and also Intelligent Lighting
And also CNC Machines
These are some of the use cases of Stepper Motor Simulink Projects. In each case, the stepper motor performs different processes. Within common, it converts the train of pulses (square wave pulses) into an exact increment in Shaft position. In the point of fact, each pulse moves the shaft through a fixed angle. As a result, the stepper motor rotates when it consumes DC voltages terminal. For that, it uses Driver Circuit or Microcontroller.
On the basis of windings, the stepper motor has two broad classes as Two-Phase and Multi-Phase motors. Besides, the stepping process also has some methods as Wave Drive, Full-Step Derive, Half-Stepping, and Microstepping. At large, any of the stepper motor systems consists of certain elements such as Indexers (Controller), Drivers (Amplifier), and Stepper Motor. All in all, the foremost aim is to attain full rated torque. For that, it uses the following theories,
Pull-in Torque
Pull-out Torque
Detent Torque
Ringing and also Resonance
For sure, we have in-depth skills in all the above theorems. That's why we assure 100% quality for all of our students. As well, Stepper Motor control is the main branch of study in this field. At this time, dynamic and automatic control mechanisms use a variety of new algorithms.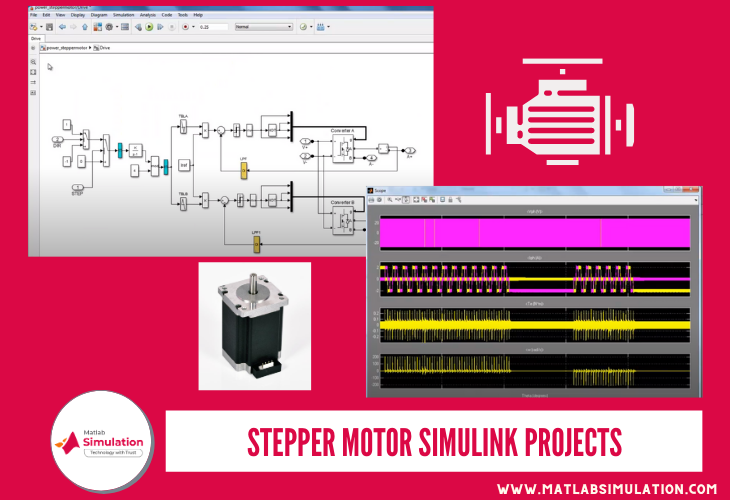 Trending Algorithms Over Stepper Motor
Deep Q-Learning based Position Control
Hybrid Optimization for Tunable Microwave Filter
Adaptive Step Tuning by Killer Whale Optimizer
Vibration Detection through Fuzzy Logic
ANN for Double Phase Compensator in Hybrid Stepper Motor
Voltage Regulation in BLDC Motor by Adaptive PSO
And also many more
Of course, algorithms and topics are important for your work. More than that, Execution is also vital. For Stepper Motors, Simulink offers the best way for Execution. In precise, Simscape Electrical allows us to do flexible projects.
Simscape Support- To Construct Stepper Motor Control
Stepper Motor over Averaged Mode
Unipolar Stepper Motor Model
Pre-parameterized Block Model and also Validation
Stepper Motor Drive Design and also Control
And also many more
To handle your Stepper Motor Simulink Projects, we have more than enough skills. We say that our experts are in the first place in the long run. It is true that they have more than 15 years of practice. For each thing, they put their efforts in the best way. Evidently, you can see our skills in your work. To sum up, we make your project as wise by our smart help.
Never have a doubt to start your work since we will put our wisdom in the end!