Matlab Robotics Projects is the nominal pivot for all coming up students. When we begin to discuss this era, indeed we end up with Robotics. Right off, Robotics is a one-off trending arena among researchers worldwide. From a general point of view, Robotics includes the Design, Operation, and Control of Robots. But in the core, it intends to offer intelligence for the machinery that is beyond our thinking. In point of fact, Robotics enhances most of the significant fields by its growth.
Innovative Matlab Robotics Projects Ideas
Machine Perception and Machine-Human Interaction
Cognitive Science by means of Multi-Agents
Ambient Assisted Living for Smart Health
Automotive Control for Smart Factory 4.0
Knowledge based System Optimization
Intelligent Fault Detection and also Diagnosis
We can see that all the above topics have a notable position in real-time. The above ideas and all of the Matlab Robotics Projects have their footprints in the real world. Therefore, preferring the Robotics domain is the best option to go with global applications.
Application-Oriented Robots
Industrial and also Swarm Robots
Cobots (Collaborative Robots)
Assisted and Autonomous Robots
Space and also Underwater Robots
Mobile Agriculture Robots
Autonomous Drones and also Nano-bots
Here, we show just a sneak-peak from the use cases. Of course, we can mold a robot for any intended applications. For most of the robots, some vital components are there.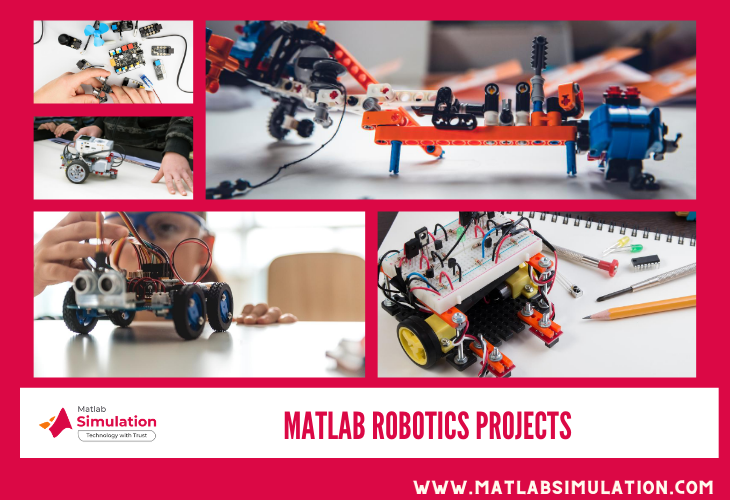 Significant Components Of A Robot
Power Source
Compressed Gas and Battery
Hydraulics and also Solar
Flywheel Storage
Actuators
Electric and also Linear Motors
Air Muscles and also Wires
Electroactive Polymer
Measuring Device
Tactile Sensor
Vision Sensor
Lidar, Radar and also Sonar
Manipulation
Mechanical
Vacuum Gripper
Effectors
These are vital in all kinds of robots. Though it is Hardware related project, it also needs apt testing support. For that, Matlab assists in robot design and control. Yes, we can assemble and test a robot in a simulation, too, by the help of Matlab.
How We Amass A Robot In Matlab?
Robotics System Toolbox
To visualize and also manipulate rigid body
Navigation Toolbox
To localize and also track by SLAM
ROS Toolbox
To connect Robot Operating System (ROS)
Simscape Multibody
To design and control 3D mechanical system
Control System Toolbox
To control and also automate robots
As well, Matlab also allows Hardware through fine tools and apps. As a result, it is possible to design a real-world Matlab Robotics Projects.
In essence, we are working on 10K robotics projects using Matlab. All of our projects are just the same in Hardware. By the way, all our students have turned their grades into A+. We are ready to bring the same success for you all. To end this, grab your best feats by our smart help.