Artificial Intelligence Projects in Matlab are the best way to enhance your academic grades as Matlab provides a beautiful platform to explore the field of research. At first, we started our service as a collective effort of top AI experts from the world. For the most part, we help the budding students with a high aim.
Students who feel to perform in-depth research can approach us anytime (24/7) as our service starts from you and ends with you. Your gratification measures our success. Let's join as a whole to make your career a remarkable success.
Artificial Intelligence Projects In Matlab
Basic View of Artificial Intelligence (AI)
In short, AI is one of the major domains, which has a great impact on the field of research. Here, we have taken one sample domain (Artificial Intelligence Projects in Matlab) and given details on all the major aspects, concepts, and projects that can be executed in Matlab. In fact, this will provide you with an insight into how to take a domain and select a topic for your project.
Main Research Areas
Experts System
Natural Language Processing
Digital Image Processing
Robotics
Digital Forensics
Students will simply come to get project work from us without much idea. But we will not take advantage of this state and give some random work. Instead, we will check the current trend and prepare a new project for them. We will use a modern set of rules to develop their project.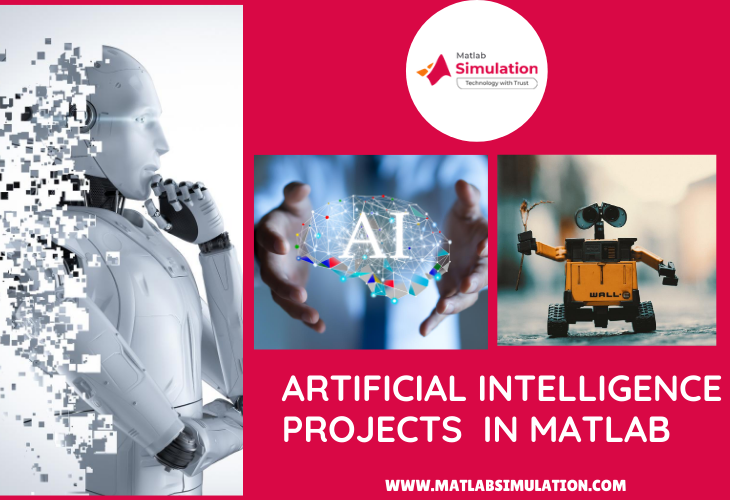 AI Algorithms
Neural networks
Deep forward and recurrent neural networks
Fuzzy logics and statistical learning method
Deep Reinforcement Learning
Supported Toolboxes
Computer vision toolbox
Neural network toolbox
Statistics toolbox
Fuzzy logic toolbox
Phased array toolbox
Our AI team of experts has created many real-time projects for final year students. We have listed some of the headings in this section. If you come to us, then we will make one like this for you.
Applications of Artificial Intelligence Projects in Matlab
Flight tracking systems and clinical systems
Speech recognition system
Automatic voice output
Pattern recognition system (Face recognition, character recognition)
Industrial robots
Fuzzy logic systems like consumer electronics
We have nearly 50+ branches all over the world and have served almost 5000+ students up to now. Due to our standard and quality, we stand as the world's no.1 organization to implement artificial intelligence projects in matlab for research scholars.
You can come in person and talk with our experts. We will not ask for extra charges. This is not only our job but also our duty to help students like you. Therefore, no need for project fears when we are here.
Birds can fly only if their feathers cooperate, You research can reach heights only if you work with us…