Our power electronics matlab projects will unlock your success upon your longings. In recent times, many students opt for Power Electronics for their primary and mini-projects. Every student seeks sole ideas and premier results. At any rate, it sounds well and is the right decision too. But in the absence of core training, students struggle to locate their success. Do you also have these snags? Then, we are the one you are searching for. Due to our Matlab interface projects provide programming and graphical support favor by many technocrats and creators all round the world.
3 Hand-Picked Fields for Matlab Power Electronics Projects
System and Control
Feedback system
Switch Control

Switching characteristics of Thyristor
Electronics and Devices
Circuits

Line-commutated rectifier

Isolated circuits analysis

Power Semiconductor
Power and Energy
Motors and Drivers
Power Supply Design

High-Voltage and performance supply

Switched Mode Power Supply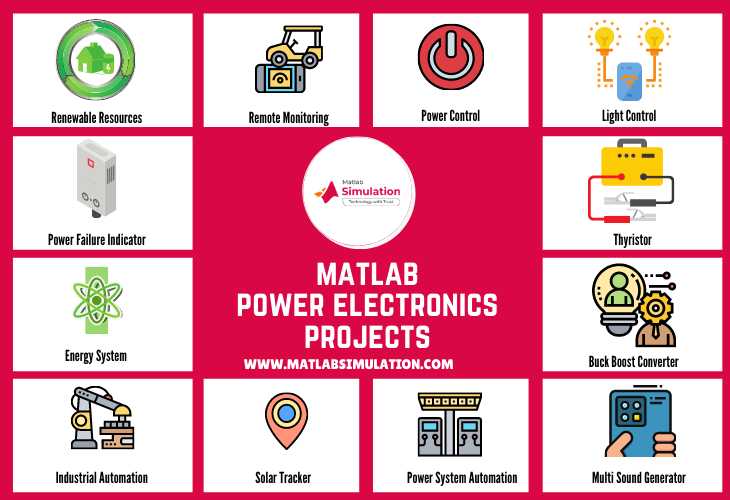 Typically, electrical matlab simulink projects has more conflicts than in other fields. The main reason is that it covers most of the Electricals and Electronics. We say it is hard, but there are also smart ways to learn. The all-time best practice is 'Our Tutor' through online/offline. With our aid, you will gain all new concepts with exact detail. To be precise, we make your learning as joy and give you Cen percent results.
12 First-Class Concepts for Matlab power electronics projects
Harmonic Analysis
Renewable resources
Remote Monitoring
Power Control [Integral cycle switching]
Light Control
Battery charger [Thyristor]
Buck-Boost Converter
Multi Sound generator
Power System Automation
Solar tracker [555 Timer IC]
Power failure Indicator [IC 555]
Synchronized Multi-Spark Module(SMSM)
10 Advanced Topics- Know the Future of Power Electronics
Renewable energy systems
DC-DC design for medical applications
Energy harvesting solutions
Nano and quantum technology
Control system for electric vehicles
Two-phase thermal control systems
Photonic and optoelectronic circuits
EMI and over-voltage protection
Emergency situation management
Power factor detection and correction
Just imagine how great if a well-trained coder handles your project. Without a doubt, the project will become Marvel and probe a big success to you. We have 150+ experts who are working under Matlab power electronics projects. Don't search your rainbow outside since we are waiting to create your own. Become a part of our research sky and build your colors with our skills.