Biomedical Projects Using Matlab is an innovative approach started by us to benefit our students. Biomedical Projects deals with the area of Medical Imaging. It is one of the most recent and popular domain due to its increasing need. Undergraduate students, PhD/MS scholars, and many other students from various disciplines are taking up this field due to its interesting research scope. Learn more in detail to develop biomedical projects using matlab and Simulink under the guidance expert panel team from Matlabsimulation.
We say it as an interesting research domain due to its current need. Today deadly diseases like cancer, thyroid, deficiency of blood cells, etc. are threatening our society. In order to have an emergency alert over it, we need to have prevention techniques over it, which is possible by using biomedical applications.
It Is A Diverse Field Which Can Be Used In Many Major Areas Like,
Biosignals and biomedical Imaging
Applications in bio mechanics and nano biotechnology
Cell and Tissue based Micro applications
Simulation and Modeling of biomedical system
Biomedical Imaging, sensing and genomic signal processing applications
Clinical Engineering
Medical imaging and also physical Modeling
Medical and also healthcare technology
Data Mining concepts in biomedical imaging
And so on
Major Reason for Biomedical Projects Using Matlab
Biomedical Projects Using Matlab is an emerging field due to its alarming need. Due to the medical complexity and advancement in the field of Medicine, today, many researchers are working on biomedical projects. It can give the best platform to students who feel to perform ground-breaking research.
The medical field has reached its peak due to the advancement in Medical image processing and its integration with advanced technology like cloud computing. Our developers are working on this domain for the past seven years and have created numerous innovative projects. We want our students to compete with the best projects worldwide, which is the major reason we focus on innovative concepts.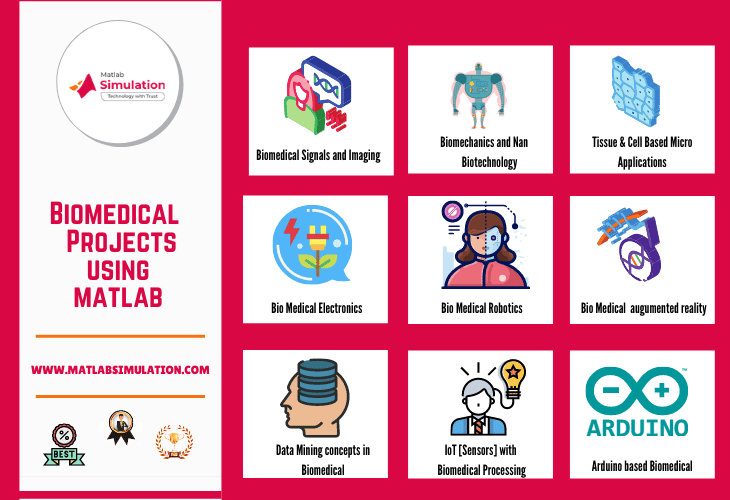 To take up a biomedical project, we need to know two things i.e., imaging technique and Medical images used.
Major Imaging Technique
Fusion Imaging
Medical Ultrasonography
Tactile imaging
Endoscopy and elastography
Medical photography
Thermography
Nuclear medicine functional imaging techniques
And also many more
Medical Images
MRI
CT
PET and also PET-CT
X-Ray
And so on
Based on the techniques and images, projects are developed in Matlab. We have mentioned below a few applications for your reference:
Major Applications of Matlab
Lung segmentation
Brain tumor and also tissue segmentation
Tumor Imaging and also its treatment
Age and also gender classification using Brain MRI
Computer aided diagnosis using Mammography
Angiography and tortuosity
Bone segmentation and also kidney stone detection
Retinal blood vessels and heart ventricle segmentation
Bone strength and osteoporosis
Bio-robotics
Bio-smart Dentistry
Bionic eye projects
Ultrasound imaging
SPO2 determination by using ECG signal
And so on
We develop numerous applications and projects based on the need of the students. We never confine our area or concept. Students can get what they need from us. Still thinking, approach us soon and get your work done.