Matlab Based IEEE Projects makes you feel worth due to the standard it follows. We are working for the past ten years on all the recent concepts and Ideas of IEEE projects. We have vast experience and expertise, which makes us a World no.1 institute for matlab based IEEE projects guidance. Up to now, we have served nearly 5000+ projects, which make us feel proud and upgrade our profile to the next level. If you want to upgrade your profile along with us, you can approach us anytime (24/7 online service).
Matlab Based IEEE Projects
Our Matlab Based IEEE Projects have started for the students who feel to take a standard work from their initial stage of career. Today everyone is aware of the IEEE standard due to its reach among the students. Students and scholars prefer projects based on IEEE papers, making us more dedicated and passionate about our work. We have membership in the top 500+ journals, which also includes the IEEE transaction. Also, We develop every project based on the IEEE standard as we have our own standard and quality, which we will never compromise for anything. We have listed below a few major domains in Matlab, along with its applications.
Image Processing
Medical Image processing
Imaging Techniques
Conversion of 2D images to 3D images
And so on
Satellite Image Processing
Remote sensing applications
Terrestrial object detection
And also many more
Artificial Intelligence(Neural Networks)
Self organizing maps
Radial Basis Networks
Feed forward back propagation
Hopfield Networks
And also more
GeoScience Applications
Water identification
Forensic Geosciences
And so on
Machine Intelligence And Pattern Analysis
Multilinear Subspace Learning
Sequence and Real-valued Sequence Learning
And so on
Intelligent Transportation
Optimum Collision Avoidance
AI assisted Automatic Road Reinforcement
And also more
Embedded Applications
2D and 3D IC Topologies (Dragonfly, Torus)
ASIC and FPGA Solutions
And so on
Multimedia
3D animations and graphical design
Multimedia security applications
And also more
Information Security And Forensics
Cryptography (DES,AES, Blowfish and Two-fish)
Steganography (Audio or Speech, Video and Image)
And so on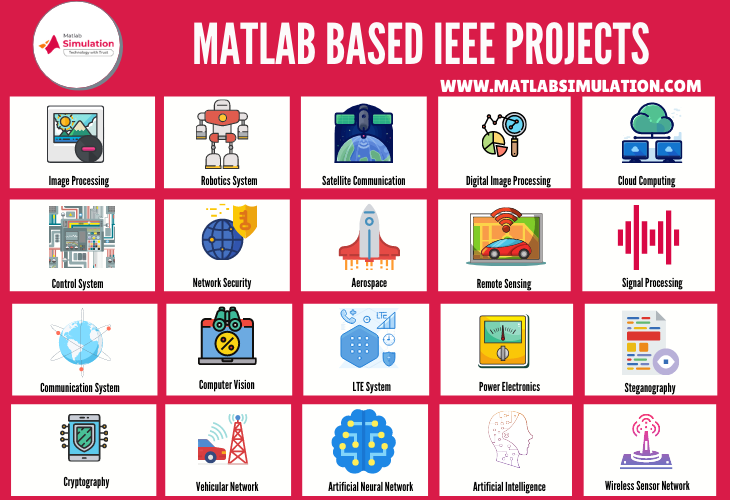 Let's Have A Glance Over The Recent IEEE Projects In Matlab
An efficient performance of Novel Constraints for Soft Tissue Deformation by also using Volume Preserved Mass–Spring Model
A new technology for Bubble-Induced Color Doppler Feedback also for Histotripsy Tissue Fractionation
The efficient mechanism for Neural Interface SoC With Integrated Chemometrics for Closed-Loop Regulation of Brain Dopamine also based on Neurochemostate
A new process of segmentation a Generative Probabilistic Model and Discriminative Extensions for Brain Lesion Segmentation base also on Application to Tumor and Stroke
An efficient Detection method for the Non Intrusive and Extremely Early Detection of Lung Cancer by also Using TCPP
A novel technology for Identifying Candidate Cancer Genes Based on Their Somatic Mutations Co-Occurring with Cancer Genes also in Cancer Genome Profiling
An efficient approach dynamic classifier for sleep disorder monitoring wearable device also based on SVM
A new controlling system for Power Wheelchair Control Interface based on Upper Body also for Individuals With Tetraplegia
A new processing Feasibility of LCP as an Encapsulating Material for Photo diode-Based on Retinal Implants
An efficient process of retinal implant based on Modeling of wireless power transfer link
An efficient approach a proposal of hybrid Principal Component Analysis and triangular approach (PCAaTA) for Face recognition template in photo indexing
The efficient performance of Aging Face Recognition used to select the Local Patterns based on A Hierarchical Learning Model.
The process of Deformable Image Registration used to Evaluate Drug Treatment Response of Ovarian Cancer Patients
An efficient Mathematical model on CBCT Data for Tumor Response to Radiotherapy
A new efficient process of Vascular Structures in 3D and 2D Angiographic Images