Stepper Motor MATLAB Projects moves with the trend by us to make you touch your dream. A stepper motor is a brushless motor that operates in distinct steps for a full rotation. The stepping modes of the stepper motor are such as wave step, full step, half step, and micro-stepping.
In fact, the windings in this motor are on the basis of bipolar or unipolar. The rotation of this motor is by the conversion of a digital pulse into a mechanical shaft. The stepper motor is slow at speed since it doesn't rotate at all times. If you are interested to design stepper motor matlab projects and require help, reach us at any time. Due to this, it is apt for operating applications that match the need of speed and torque.
Three Types of Stepper Motors
Permanent magnet
Variable reluctance
Hybrid synchronous
Especially the motor enables with closed-loop feedback while it is on the open-loop control. By all means, it tends to low down the device cost as well as circuit density. Without a doubt, the stepper motor control is also by FPGA, microcontroller, and sensor. Now let us view the applications of this stepper motor.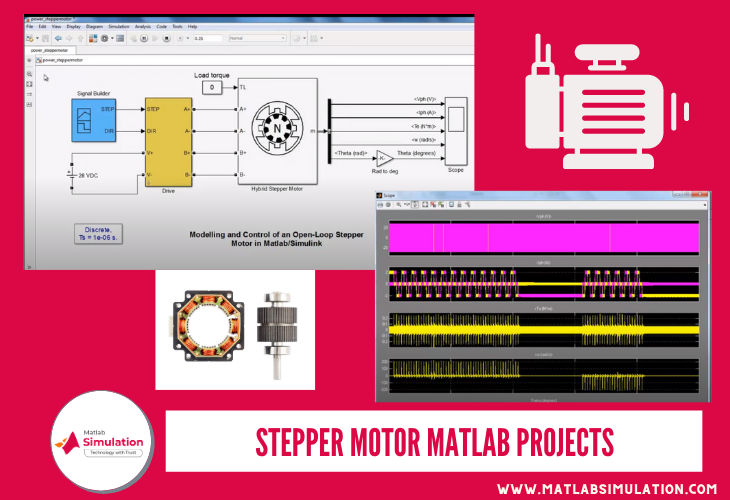 World-Wide Real Applications Supported By Stepper Motor
Robot design
Drilling and Welding machines
3D printing
Slot machines and also industrial machines
Digital camera lenses
Medical equipment
And also many more
Our Stepper Motor MATLAB Projects make use of MATLAB since it has a special library and block to support the family of the stepper motor. Here the use of Simscape in MATLAB is in detail.
Know More About Simscape Blocks In MATLAB
Permanent Magnet Stepper Motor
BLDC
Single-phase and also five-phase motor
Linear Synchronisation
Variable Reluctance Stepper Motor
Stepper motor drive
Switched Reluctance Machine (3-phase or multi-phase)
Unipolar stepper motor or driver
Synchronous Stepper Motor
Field circuit
Machine model 1.0 and 2.1
Round rotor and Salient Pole
In brief, the motor design by MOSFET, PWM, DC supply, and more is the ease in MATLAB. Besides, it aids with other processes in the stepper motor as below.
Study Areas In Stepper Motor Matlab Projects
Automatic bending machine
Improve resolution in biosensing
Solar panel position tracking
Adaptive current control
Robust motion control
Pattern recognition system
Reliability assessment
And also many more
Do you have an idea to work in this area? Then don't take too much of your time; get in touch with us. We lend ears to listen to your concept and then create it a complete solution for it. Quality is not a compromise, and so we reach this much heights.