Electrical and electronics engineering represents the big field of study about power generation systems and communication systems. It is also one of the significant and fascinating domains of engineering study since it includes computing, electrical and electronic engineering, as well as communication engineering.
Electricity production, transfer, and delivery are all covered under electrical engineering. This article talks about different projects for electrical and Electronics engineering that are very recent and trending. We shall begin with an overview of electronics and electrical engineering
Overview of Electrical and Electronics Engineering
To have an ultimate understanding of electronics and electrical engineering, let us start with a question. What are the three electrical components?
Electrical systems, often known by their circuitry or named as networks, are based on three basic elements which are capacitors, resistors, and inductors.
Capacitance, Resistance, and Inductance are the respective attributes that define them, and they've all been considered usually as grouped traits.
Apart from these fundamental constituents, operational amplifiers also play a significant role in any electrical and electronic projects. Usually, the sources of voltage and current are considered to be the counterparts for the mechanical system forces and moments. How many types of electronic components are there?
Active components

Transistors, logic gates and diodes

Passive components

Capacitors, inductors and resistors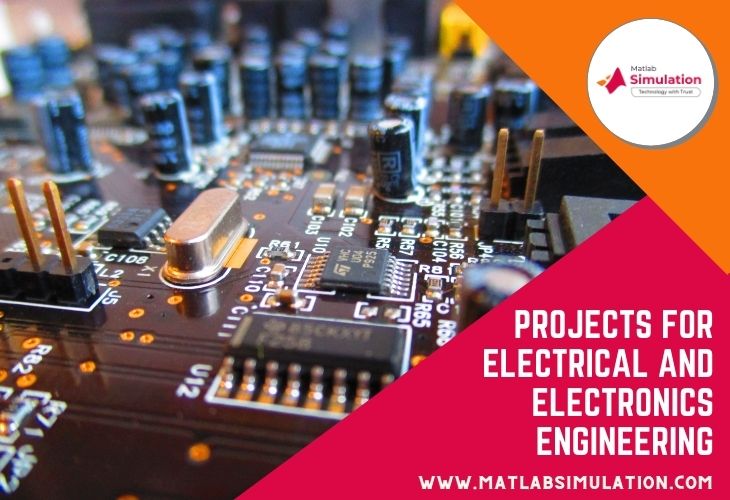 These are the two major heads into which all electronic components are classified. A proper balance between static explanations on these components from standard books and technical descriptions on the recent breakthroughs with real-time implemented project examples can give you high command and hold over your projects for electrical and electronics engineering. Much needed customizations and such expected descriptions will be provided to you by our experienced technical team of experts for ai and simulation. Let us now have looked at the major aims of electrical systems,
Objectives of Electrical Systems
Preventative hardware should always be installed in all electrics well to quickly isolate damaged electrical devices out from the electricity distribution system.
It could be accomplished by using many devices.
What are the safety devices in electrical?

Components that respond directly to the output current, such as fuses

Systems that respond via protective relay setup like circuit breakers for reacting to the flow of electric current and trigger devices to trip

Safeguarding Systems installed across an electrical network must distinguish between defective and good hardware in order to separate just the defective parts from the source.

The differentiation of safety equipment seems to be an important consideration in the development of electronic wiring as well as the choice of safety devices for usage inside such systems

Every electric circuit has to have a good amount of properly graded terminating devices strategically placed across the structure.

These should be set up in such a way that only the relevant devices are used to unplug the malfunctioning hardware from the power supply.
These are all the major objectives of any electrical and electronics system. For the development of innovative ideas for your projects for electrical and Electronics engineering final year study, you can reach out to our experts.
Advanced data analysis on recent trends in electronics and electrical engineering projects has shown that balancing creativity and efficiency requires the support of veterans in the field. In this regard, you can quite confidently check out our expert services for your project support. Let us now talk about mini projects for electrical engineering system implementation examples
Real-Time Examples of Electrical Engineering System Design
The following are some of the examples of electrical and electronics engineering projects that are implemented in real-time
Artificial Retina

Objective

It is designed with an objective of restoring vision to the visually challenged people

Design

An external camera image is transferred wirelessly to the implant

The retina array electrodes are there in simulated

Finally the retina forms picture for perception

Watch through walls

Objective

It is a wireless networking system which is designed to track the motion of the people or look through walls

Design

Signals are propagated from antennas from one end

The transmission and reception antennas within the wireless mesh networks are involved in estimating images

These help in mapping and tracking objects and people across the walls
Data from sources that are the benchmark and the topmost journals in electrical and electronics engineering are harnessed by our experts to unleash a series of the latest research in the field. Our engineers take demanding steps and measures to provide a fitting response to the majority of the concerns and issues faced by research scholars in electronics. In this respect let us have a quick look into the reasons for the failure of electrical and electronics systems
How do the electrical and electronic systems fail?
The accidental failure which occurs in any electronic and electrical system can be categorized as follows
Failure due to defect of the components

Component design, structure and process defects

Defects due to microstructure of the materials

Defect due to the impact of chemical pollution due to process and materials

Improper usage of the components

Defect in processes

Installation and interconnection defects

Damages due to chemical pollution and electrostatic mechanism

Stress over the environment

Impact of humidity, vibration, and temperature

Lack of margin

Capacity of current and speed

Amount of pressure and power
After probing into many major real-time electrical system failure incidents, we have developed a list of potential solutions to such electrical system failure causes. With research scholars and experts in electrical engineering around the World taking an aggressive stance against negligent approaches towards implementation, our experts devised some Adaptive measures to ensure electrical safety. Check out our website to know more about our innovations plus projects for electrical and Electronics engineering guidance. We shall now see how the electrical systems are assessed!!!
How to assess the electrical systems?
In order to understand more about the electrical system assessment one needs to have a better idea of its following components
Inverters
Switchgears
PV strings
Combiner boxes
These components are interconnected with the connection point of the microgrid. For the mechanism behind the working of these components, you can check out the explanations quoted from standard reference books on our website. Let us now look into the characteristic features and factors that are used for assessing electrical systems containing these components
Expandability

By proper definition and specification of the important components like switchgears and cables, the PV system is liable for further expansion in the future

Redundancy

The cost of a system design, like PV main cable feeders that are redundant, which is highly redundant paves way for increased reliability is indeed very high

Ratio of DC to AC capacity

Higher value of ratio is expected out of DC and AC

capacities in case of PV modules and inverters respectively

This is because higher the ratio more is the smoothening of fluctuations

Also it provides for a flatter PV output which is highly preferable

System voltage levels

The AC and DC systems are operated in particular voltage levels in line with the equipment ratings

It also minimises the losses that occur in distribution
When all these characteristics are incorporated into an electronics and electrical engineering project, it gains maximum efficiency and reputation. As our team is very keen on updating ourselves with the recent trends we are able to provide you with proper practical explanations on all novel ideas. If you are also looking for research guidance in electrical and electronics engineering then you can surely reach out to us. Let us now talk about the future scope of EEE research
Future research directions in EEE
Efficient utilization of solar energy and other renewable energy sources
Self-driven cars and robotics
Nano batteries and 3D printing technology
Virtual reality and Quantum computing
Wireless, telecommunication, and internet-based communications
Material science-based development of Nanotubes, Nanoscale Equipment's and Quantum dots
Smart grids, windmills, and solar cells for power systems
Automation involving both soft and conventional robots and robotics
Smart wearable especially for health monitoring purposes
Intelligent controlling of any applications and energy utilization
Effective generation of energy with smart battery designs
We have been providing the most trusted reliable professional and customized support in all these topics related to projects for electrical and Electronics engineering for the past twenty years. By offering multiple revisions and grammatical checks we are also experts in assisting electronics thesis topics, associated proposals and assignment writing, paper publication, and many more. In connection with this point, we have provided the list of our successful projects in electrical and electronic engineering below for your reference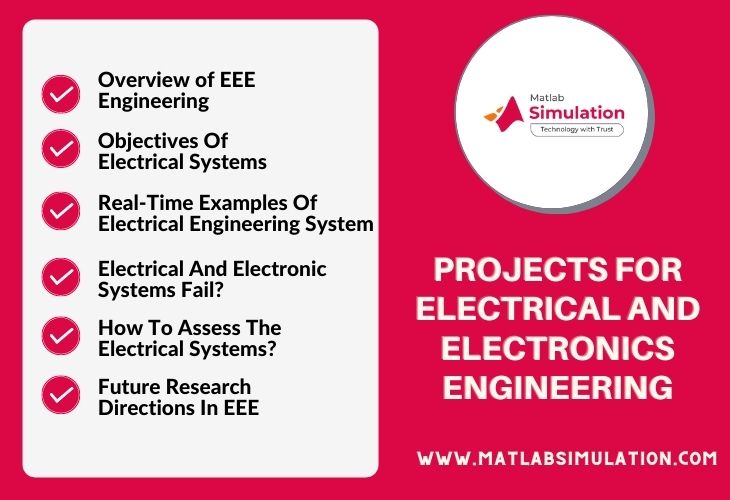 Best projects on electrical and electronics engineering
8051 based Visitor counter (bi-directional)

It is designed to have a count on the number of people who are entering and leaving a particular room

It is also structured to display the count on a screen

Smart solar panel

The solar panel in this case is devised to track be along its path

For this purpose circuit is developed and installed with the plan and setup

Stepper motor, solar panels, ATMEGA8 microcontroller and two light dependent resistors or LDRs are the components used

Indication of battery level

The battery level of inverters and car batteries are indicated by designing a certain customized circuit

Battery lifetime can thus be increased with such a set up

Charger for car batteries

With proper operating, designing and working principles car battery chargers are designed

This is used to convert the supply from AC mains to charge the battery

There is also a feedback mechanism for controlling the battery charger

Solar based battery charger

A circuit for battery chargers based on solar energy is designed in charging six volt and 4.5 Ah lead acid batteries that are rechargeable

This charger circuit provides for regulation of voltage, current and over voltage cut off mechanism

Due to the involvement of dynamic output voltage, battery has to be charged at a constant volt

Pulse width modulation based DC motor speed control

Manual speed management of DC motors is established with the circuits based on pulse width modulation
All the technicalities involved in the creation, administration, and maintenance of electrical systems in the above projects are designed based on the demands and requirements of each and every customer. Aspects like energy production, power distribution, repair, maintenance, and servicing are also taken care of by our experts. With industrial automation and robotic systems being the future, let us now talk about some of the power systems and utilities based project topics in electrical engineering using Arduino
Electrical projects using Arduino projects
Automatic Meter Reading based data logger using XBee

Reading, collecting and storing the data on energy usage for different remotely located consumers with ZigBee technology

The communication module of ZigBee and Arduino controller are used in implementing this circuit design

Protecting differential transformers with arduino

The transformers are protected from different kinds of electrical faults with the use of Arduino by ensuring differential protection

Arduino controller for current transformers is used in measuring the differential current and detect faults which in turn is used in operating the relay

Omni wheel robot implementation

Multidirectional Omni robot is built to move in various directions

The motor driver circuit built using arduino controller is involved in managing the various angles robot motion

Solar data logger

Designing Arduino controller circuit for measurement and storage of multiple solar energy parameters is the objective of this project

Voltage, current and temperature sensors along with LDR sensors are used in solar panel design and its parameter monitoring

The data acquired using Arduino controller is then transmitted to the computer
The Arduino-based projects stated here are some of our successes. Check out our website on projects for electrical and electronics engineering for more successful Arduino projects delivered by us. Our engineers provide complete support in algorithm writing, coding, and its implementation. The efforts and support of our experts are lauded by students and scholars from top world universities who reach out to us confidently for better guidance. Let us now have a look into top electrical project ideas with MATLAB
Electrical projects using MATLAB
Virtual instrumentation based monitoring and measurement of power quality

MATLAB based determination of power quality and its monitoring

Appropriate techniques of virtual instrumentation are used for measuring power, voltage and current quality parameters and their analysis

DC motor drive system implementation (frequency locked loop)

Algorithm for frequency locked loop control using MATLAB is implemented in this project for DC motor speed control

Speed stabilization capacity and its regulation is maintained for load change rated speed recovery

Monitoring power theft with wireless designs

Data on load is sent regularly to the controlling station using this power metering wireless sensor device

At control station the user data is aggregated and the power theft is detected automatically by comparison of extra load consumption

System for detecting data transfer and transformer fuse failure

Fuse failure detection of the distribution transformer is made possible with this project

Detecting distribution transformer fuse failure is its major aim

It allows for GSM module based fuse failure data intimation to the uses

PIC microcontroller based on MATLAB and voltage sensors are used in detecting the fuse failure

MATLAB based induction motor drive simulation fed by inverters

Inverter fed induction motor mathematical model simulation using MATLAB is the objective of this project

Dynamic motor characteristics are analysed with this simulation

BLDC motor direct torque control

Quick torque response attainment is the major objective of this project during controlling brushless DC motor speed simulation

Fuzzy Logic controller using MATLAB is developed in this project

Photovoltaic solar cell data monitoring in real time

Data acquisition board (DAB) and MATLAB Are used for photovoltaic cell and panel monitoring in industrial and household applications

The values of various solar cell parameters are acquired and send to MATLAB platform where a proper interface is used in monitoring them

DC servo motor Fuzzy PD and PID implementation

Position of the DC servo motor is controlled using PD Fuzzy Logic and Ziegler Nichols rule

The controllers and the administration is implemented effectively using MATLAB software and DAQ board

Power analyser based on MATLAB

The objective of this project is Power quality measurement and analysis based on MATLAB software

Power factor, instantaneous power, harmonics, active and reactive power are some of the parameters that are measured

VI characteristics are implemented using MATLAB and DAQ board in this power analyser
These are the top MATLAB-based electronic engineering topics for final year research and projects, for which overall technical and literary support is available with us. These ideas could also be used in electrical engineering projects mostly in the last semester. For graduation and science majors we support both major and small projects. We ensure to provide ultimate support on all creative and unique electrical ideas. We will now see about some innovative EEE project topics below
List of innovative project titles in EEE
Filter Design and Harmonic Analysis
Motor control using Digital Signal Processing and peak load shaving in electric cars
Photovoltaic energy converters as a function of temperature
Increasing the efficiency of performance in power electronics device development
National grid integration using smart grid for renewable energy production and consumption
Efficient and cost effective power production and solar power cells development
At large the controlling systems in most of the above cases including industrial. At large the controlling systems in most of the above cases including industrial applications and home networks are implemented with renewable and advanced technologies of today. One can surely expect a great career in electrical and electronics engineering by choosing to do projects from these topics. Get in touch with us for any kind of support regarding your projects for electrical and electronics engineering.