Solar Wind Research Projects paves a powerful path for your research. Solar Wind System is a hybrid renewable energy system that combines a Photovoltaic (PV) system with a Wind system. To be sure, the main intention is to increase power generation from renewable systems. Owing to this ability, Solar Wind systems have long-run applications, including Solar-Wind Buildings, Lighting, and so on.
What Is The Need For Solar Wind Systems?
As we all already know, a stand-alone renewable system such as solar or wind has proven its efficacy. On the other hand, they depend on some constraints. That is to say, the Solar system depends on sunlight density, and the Wind system depends on wind speed. Thus, the stand-alone systems unable to fulfill the current power needs. With this in mind, the hybrid Solar Wind Research Projects begin to evolve.
How the Solar Wind System Works?
In general, Solar Wind Systems work upon the following components,
PV Arrays
Wind Turbine
Regulation
Inverter and Converion
Generator
Batteries
At first, the PV panel converts the sunlight into direct current (DC) by PV effect. At the same time, the wind turbine produces alternate current (AC) through mechanical methods. Then, the batteries store the energy to supply load, such as a home. Though this process is simple yet effective, solar wind systems also have some limits. In broad, the following research issues need better attention from scholars in recent times.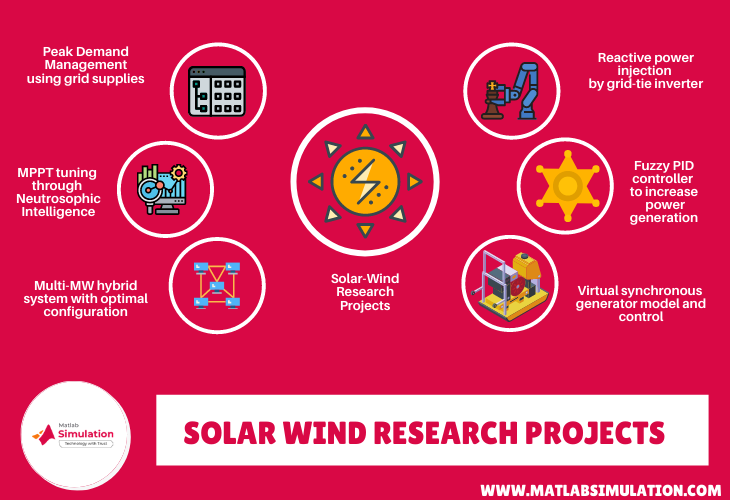 Research Challenges- Frame Your Research
Optimal Switching between PV and Wind
Predictive Control Mechanisms for Tracking
Power Quality and Battery Management
Automatic Charging Duty Cycling
Topological Control and Design
To cope with these issues, most of the scholars intend to design new Solar Wind Research Projects. Surely, a new design will uplift the efficacy of such systems. To mention that, we have built 10K novel solar wind architectures. All in all, we assure better outcomes in each project.
Trending Ideas- In order To Build Your Solar Wind Research Projects
Peak demand management by grid supplies
MPPT tuning through Neutrosophic Intelligence
Multi-MW hybrid system with optimal configuration
Reactive power injection by grid-tie inverter
Fuzzy PID controller to increase power generation
Virtual synchronous generator model and control
The above topics will ignite your research. Once you opt for the topic, then you have to do deep research. For this purpose, we have a team of experts with excess skills in this field. As a result, they will do more for your work to grab success. In a word, just a phone call will change your career. Yes, you can start your research with us at the moment when you share your thoughts with us.
If You have Fears in Your Way, Then Take Our Smart Light along with You! With conviction, You will Meet Success in that Way!