Final Year Projects based on Matlab will enhance your academic grades due to its high productivity and increasing research scope. We are working on Matlab projects for the past ten years with our multi-talented developers and versatile experts. We work for students from various departments i.e., Computer science, Information technology, Electronics and communication systems, Electrical and electronics. Up to now, we have developed 1000+ final year projects based on Matlab for students from various countries. Our standard and expertise make us world no. One institute today (Matlabsimulation) Students can approach us any time regarding any doubts in their project as we are available for you (24/7).
Matlab Based Final Year Project Topics
Final Year Projects Based on Matlab is preferred by many students and scholars due to the advanced features and graphical support in Matlab. Students can take their final year projects in domains like Medical Imaging, Audio processing, Geosciences and remote sensing, Machine learning, Pattern analysis, Wireless communication, Visual communication, Image mining, signal processing, etc. To give students a clear idea for their final year projects, we have provided a few recent concepts developed in Matlab and the algorithm used in it.
Iris sclera Identification- Learning vector Quantization
Indian currency Identification- Probabilistic Neural Networks
Fruit disease recognition- Combination of Machine learning algorithms
Breast cancer detection- LESH Technique
License plate detection- Genetic with Neural network
Skull Identification- Craniofacial Reconstruction
Food segmentation- Multiple hypothesis segmentation
Image denoising applications- Higher order singular value decomposition
Speech Recognition- Modified hidden Markov Model
Brain MS Segmentation – Spatially constrained Possibilistic fuzzy C-Means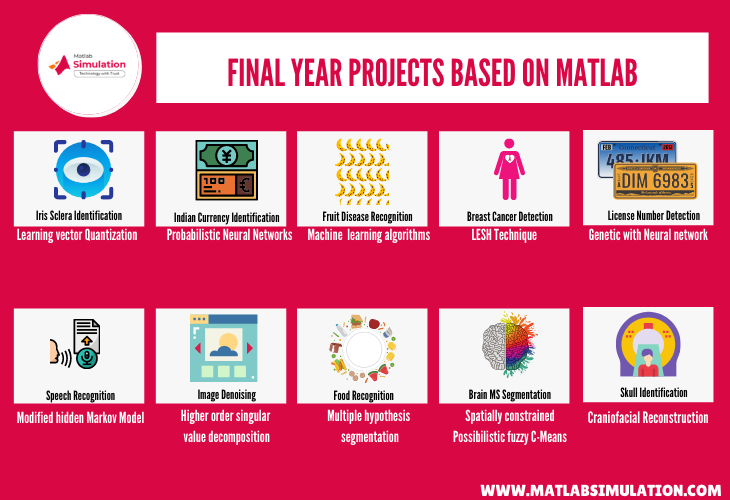 These are the few recent research concepts that will give you an insight into final year Matlab projects. In an effort to further explore the projects in Matlab, we have provided the following few important topics
Recent Research Topics In Final Year Projects Based On Matlab
An efficient method random walks with dynamic shape constraint to cardiac image segmentation
An efficient technique Auto-correlation of Local Structure for Image Registration
A novel technique for Automatic Segmentation of High-Frequency Ultrasound Images of the Mouse Embryo using Nested Graph Cut
A new method Learning-Based Multi-Label Segmentation of Trans-rectal Ultrasound Images for Prostate Brachytherapy
A new approach to perform Control Cloud Data Access Privilege and Anonymity by using Fully Anonymous Attribute-Based Encryption
An efficient approach for Investigating the security and digital forensics of video games and also gaming systems based on PC games and PS4 console
A novel approach to perform Securing Management And also Managing Security.
A novel approach to Identifying the Influential Members of a Criminal Organization also by using a forensic investigation tool – SIIMCO
An efficient approach for Exploring the Usefulness of Light Field Cameras for Bio-metrics based on Face and also Iris Recognition
A new technique to Detect Attacks in SCADA Systems by using an efficient Data-Driven Clustering Technique
An efficient approach also intended for Multiple Parenting Phylogeny Relationships based on Digital Images
An efficient interference to improves PHY Security for CRN – Cognitive Radio Networks
A new novel approach also for retrieve the Private Cell from Data Warehouses
A novel method for Robust Image Hashing With Ring Partition and also Invariant Vector Distance
An efficient approach to Embed Fuzziness in Bio metric-Based Encryption also by using Distance-Based Encryption