Surveillance Matlab Projects spread fresh ideas to cover your work with success. Surveillance is the progress of monitoring Behavior and Information by means of electronic devices. Closed-Circuit Television, that is CCTV, is the most common surveillance equipment. For the most part, these devices monitor and transmit the data remotely using Surveillance Matlab Projects. Then, experts analyze this data to make the right yields.
Surveillance Matlab Projects: Varieties
Satellite Imagery Mass Surveillance
Video based Surveillance
Social Network Analysis
Wireless Tracking and also Monitoring
Biometric Surveillance and more
Apart from CCTV, that means for video surveillance, the above kinds are there. The main aim of any kind is to ensure security against cyber and physical threats. Due to its nature, it takes first place in Digital Forensics. To add a point, it also has great effort in the current IoT applications. This or that our Surveillance Matlab Projects bring ensuring help for you.
Innovative Thoughts From Experts: Road To Novel Surveillance Matlab Projects
DAG-Blockchain Forensics under Cloud Platform
Facial Recognition from Surveillance Videos
CCTV Image/Video Quality Enhancement
Intelligent Surveillance by Multimedia Sensors
Real-time Traffic and Parking Slot Monitoring
Mobile Human Identification Model
Bullying Detection and also Early Warning
As we said, Surveillance has huge connectivity with the real world. Right now, the current research issue is ongoing with Privacy Preservation. Since the aim of this field is to monitor users, and their privacy is also vital. Thus, the recent efforts put on privacy in the above topics. In fact, we collect and update our data with the new facts at any cost.
On the other hand, Matlab has great toolboxes to support various ideas in Surveillance. The presence of these toolboxes makes the project ease.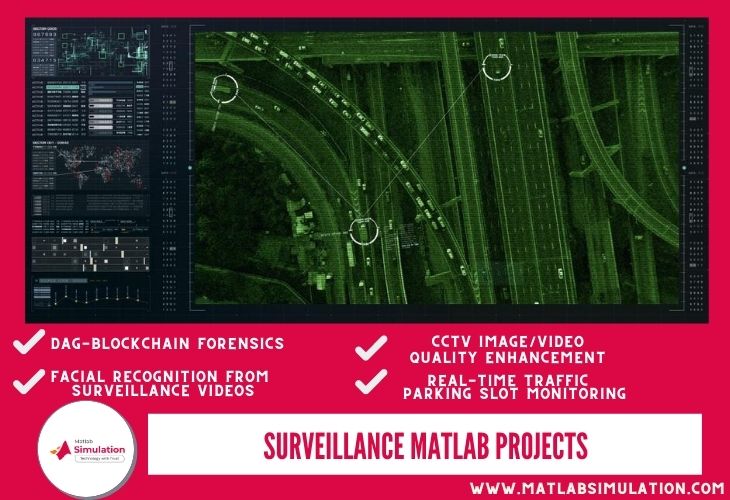 Explore Required Surveillance Tools And Toolboxes
Image Acquisition Toolbox
To acquire video/image from the source
Image Processing Toolbox
To process the surveillance media
Computer Vision Toolbox
To process videos from CCTV
Instrument Control Toolbox
To make interface with other tools (like Labview)
Deep Learning Toolbox
To analyze, segment and also enrich the data
ThinkSpeak
To store and visualize data in the cloud
The above are some of the notable toolboxes. To mention that not all of them are mandate for all projects as each has diverse aims. We follow your projects instead of using a common syntax each time. As a result, we bestow the One-off Project with apt Upshots on time. In addition to this, we also offer our freebies with that. From that, you can get the core of your project.
In a point of truth, we have 100+ experts who have in-depth skills in this field. For the past era, we follow each update in this field. By means all, our modern thoughts have made 55+ happy customers. To sum up, submit your needs to us. We will get back to you with the fine solutions.
Dream Bigger and Expect Bigger but Do Smaller, as we are here to do Big Things for You!