Fiber Optical Communication Projects is the platform to widen your thoughts. In simple, this is a data transmission with lights rays via fiber cables. It supports many types of data, such as voice calls, multimedia, and many more. It put on mainly for far distance transmission between cities. For this purpose, it requires three devices, such as light source, fiber cables, and photodetector. In contrast to copper wire, optical fibers are much better in terms of RF, durability, and so on. Designing fiber optical communication projects is a tough task for beginners. But, with the guidance from Matlabsimulation expert team it is far more easier task for research scholars.
What is The Reason For Fiber Optic?
The first thing to remember is high bandwidth than any other sys. In any case, it supports with less power and loss in transmission. On the other hand, this provides privacy and flexible links for data flow. Due to these healthy reasons in this type of transmissions, it leads to standing at the peak.
In brief, this hopefully supports internet connections, and hence it gives a speed of 10 Gbps. It is important to realize the internal work process in this area, and hence to make it easy; we list it below.
Major Study In Fiber Optical Communication
Optical burst switching
Congestion free data transmission
Cryptography
Wavelength division multiplexing
Two way transmission
Duplex transmission
Spectrum assignment
Jobs scheduling and so on
This burst switching is by means of the buffer, space, priority, and so on. In order to solve the demands in the future, the optic transmission enrolls into the 5G era and beyond. In this way, it permits for MIMO, C-RAN, and others. This topic and routing are the most attention gaining, so we like to give you all the shortlist topics herein.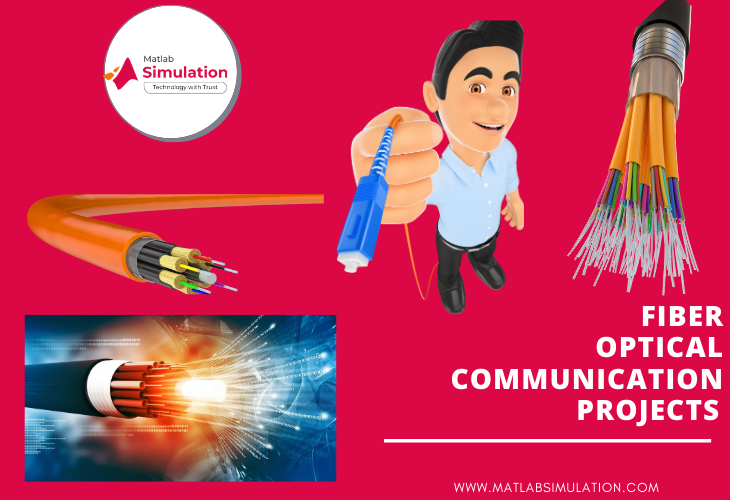 Top Most Burst Switching In Fiber Optical Communication Projects
Buffer-less switching
Contention resolution scheme
Wavelength Convertible
SBFPP protocol
Photonic frame
Balanced wavelength allocation
And also many more
Especially, the concept of WDM and DWDM ensures to provide higher capacity. In fiber optical communication projects, the adjustable sub-wavelength follows either OBS or OCS.
Routing in Fiber Optical Communication
Lightpath strategy
Load balance with deflection
Fragmentation aware routing
Multi-layer routing
Cross talk free algorithm
Multi-objective routing
Impairment aware and Service classified routing
Resilient grouped routing
Ant based algorithm
Ans also many more
At this time, we get back you with a wide range of areas as long as our efforts for you will take you to heights. So that if you need to score high, then we will be your better choice. By all means, we have up to 50K+ happy clients with our help.
Join your hands with us to create your dreams to real…