Hybrid Beamforming Projects launches support for B.Tech, M.Tech, and beyond. In short, this topic in 5G stands as a combination of any number of array elements fed into subarray modules. In simple to say that, it is a mixture of analog and digital signals. From time to time, users' growth is high, and hence it uses MIMO in 5G that creates any number of beams.
Given that the Hybrid Beamforming Projects solves all the tough issues in beam management, error correction, blockage and more. The potent of custom beam formation can either be fixed or dynamic.
In fact, precoding is one of the main processes in this that supports many data streams from the antenna. Not only on normal antennas, but also it suits for smart antenna model.
Look Keen On The Following To Know More About This Area
Newest Precoding techniques in Hybrid Beamforming
Data-aided symbol level precoding
SVD for mmWave
MMSE-EDS
Non-linear precoding
Space and ground precoding
Tree search hybrid precoding
Directional and zero force precoding
Energy aware butler matrix
UCD or GMD or SVD based precoding
MMSE with PSO
DFT codebook for precoding
Asymptotically unitary hybrid precoding
Different antenna array in hybrid beamforming are
Stacked patch
Massive planar
Dual polarized and Polarized
Dual linear polarization
Multi-Active Multi-Passive
Adaptive antenna array
Linear and elliptical
Multipanel array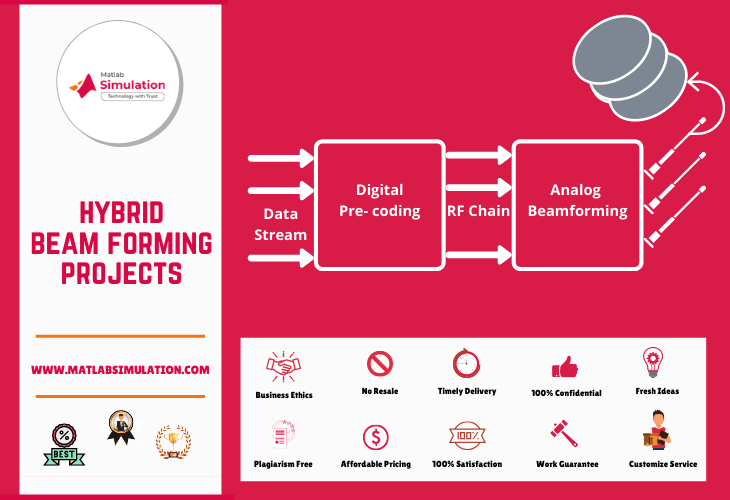 All of a sudden, this will aid 5G and beyond that is 6G applications too. In general, the state info of a link with the presence of noise and signals will reflect on beamforming. In this case, MATLAB is the aptest tool for Hybrid Beamforming projects that gives correct results.
Due to the phased array system toolbox and communication toolbox. For results, the main metrics are spectral and energy efficiency, sum rate, SNR, throughput, BER, gain, and others.
Hybrid Beamforming in Real Applications
Picocell in 5G
UAV in underwater communication
VANET
Cognitive radio network
Software defined network
Satellite systems
Cellular communication
Ultra wideband (UWB)
Internet of things and many more
We not only support this in MATLAB but also handle other hard concepts too. In truth, we consider your ideas as the key to the project and stand your side up to the present time. As well as we learn up all the other topics and hence we help in hybrid beamforming projects. On the whole, we show our stuff in this area that will be at your hands as a result.
So just kick out your fears on projects until we are here…